You may find interesting
Close
Zoomlion 48m X-6RZ 2011 Euro 3 on chassis MERCEDES-BENZ Actros 4141
price on request
Sany 52m 2012 52X-6RZ on chassis MERCEDES-BENZ Actros 3341
price on request
Zoomlion CIFA 2010 46X-5RZ on chassis MERCEDES-BENZ Actros 3341
price on request
Sany 52m 2011 52X on chassis MERCEDES-BENZ Actros 4141
price on request
MERCEDES-BENZ M56
price on request
Sany SY5295THB on chassis MERCEDES-BENZ SY5271THB
price on request
Zoomlion 52m X-6RZ on chassis MERCEDES-BENZ 4141 8X4 concrete pump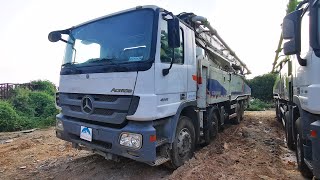 1/21
Year of manufacture
01/2012
First registration
2012-02
Location
China
Changsha Shi
Description
Concrete pump brand
Zoomlion
Pumping head of concrete
52 m
Number of concrete pump sections
6
Type of the cabin
SuperSpace
Overall dimensions
13.6 m × 2.5 m × 4 m
Engine
Brand
Mercedes Benz OM501LA.III/17
Cabin
Cruise control (tempomat)
Electrically operated mirrors
Condition
Technical inspection valid till
2022-06
We,Himalaya Technology Co.,ltd, supply all brands of new and used concrete pumps in China, such as SANY, ZOOMLION, Schwing, and Putzmeister from 37m-70m, with good working condition.

1. Professional and honest working style(never cheat you, show you all original data)
2. Sales+ technical support+spare parts+ International transportation+All documents+customer visiting service.
3. Equipment tes+Equipment Cleaning+Chassis and upper-struction repairing+ equipment repainting (under order)+ total test.
4. Customed products(color, change to right-hand driver, replace engine with higher emission etc.) and remanufactured products.

##The price is based on FCA Changsha, China.please contact us so that we calculate the freight for you.##

A few companies write false information about the used equipment on the website to increase the attractiveness, for example: production year, mileage, working hours, decorating the equipment condition.

Honesty is the LOWEST requirement of our company and our people.

Equipment is a complex machine, there are many technologies of mechanics, hydraulics and electronics. If you buy low-quality used equipment, although the price was low, you will spend more money and time for repairs. Then it's too late to regret!
نحن ، شركة Himalaya Technology Co. ، ltd ، نوفر جميع العلامات التجارية لمضخات الخرسانة الجديدة والمستعملة في الصين ، مثل SANY و ZOOMLION و Schwing و Putzmeister من 37 م إلى 70 م ، في حالة عمل جيدة.

1. أسلوب عمل احترافي وصادق (لا تخدعك أبدًا ، تظهر لك جميع البيانات الأصلية)
2. المبيعات + الدعم الفني + قطع الغيار + النقل الدولي + جميع المستندات + خدمة زيارة العملاء.
3. فحص المعدات + تنظيف المعدات + الهيكل وإصلاح الهيكل العلوي + إعادة طلاء المعدات (تحت الطلب) + الاختبار الكلي.
4. المنتجات المخصصة (اللون ، التغيير إلى المحرك الأيمن ، استبدال المحرك بانبعاثات أعلى وما إلى ذلك) والمنتجات المعاد تصنيعها.

## السعر يعتمد على FCA Changsha ، الصين. يرجى الاتصال بنا حتى نحسب الشحن لك. ##


يكتب عدد قليل من الشركات معلومات خاطئة عن المعدات المستخدمة على الموقع لزيادة الجاذبية ، على سبيل المثال: سنة الإنتاج ، الأميال ، ساعات العمل ، تزيين حالة المعدات.

الصدق هو أدنى متطلبات شركتنا وموظفينا.

المعدات عبارة عن آلة معقدة ، وهناك العديد من تقنيات الميكانيكا والهيدروليكا والإلكترونيات. إذا اشتريت معدات مستخدمة منخفضة الجودة ، على الرغم من أن السعر كان منخفضًا ، فسوف تنفق المزيد من المال والوقت للإصلاحات. ثم فات الأوان للندم!
Мы, ООО Гималаи Технология поставляем новые и бу бетононасосы всех марок, такие как SANY, ZOOMLION, Schwing и Putzmeister, высота от 37м до 70м в хорошем рабочем состоянии.

1. Профессиональный и честный стиль работы (никогда не обмануть, показать все исходные данные)
2. Продажи + Техническая поддержка + Запчасти + Международные перевозки + Все документы для растаможки + принимать клиентов в нашем городе.
3. Испытать оборудования + очистить оборудования + Ремонтировать шасси и надстройки + Переделать краску оборудования (под заказу) + полный тест.
4. Стандартные продукты (цвет, замена в правый руль, замена двигателя на более высокий уровень выбросов и т. Д.) ,и восстановленные продукты.

## Цена указана на условиях FCA Чанша, Китай. Свяжитесь с нами, чтобы мы рассчитали для вас фрахт. ##

Несколько компании пишут фиктивную информацию бу оборудования в вебсайте чтобы увеличить привлекательность, например: год производства, пробег, рабочее время, украшать состояние машины. Мы знаем всё секрет бизнеса.

Автобетононасос, это машина сложная, существует много технологий на механику, гидравлику и электронику. Если купить некачественное бу оборудование, хотя цена была маленькая, но вам будет тратить больше деньги и время за ремонта. Тогда слишком поздно сожалеть!

Честность, это самое низкое требование нашей компании и наших людей.

Если собираетесь купить автобетононасосы бу, свяжитесь с нами за спецификации и цены, или проверьте состояние продукции на месте.
Important
This offer is for guidance only. Please request more precise information from the seller.
Safety tips
Seller's contacts
Chen
Languages:
English, Russian, Chinese
Seller's local time: 12:48 (CST)
Selling machinery or vehicles?
You can do it with us!